The Winter Vaccination Programme
You will not get your vaccination at your GP surgery check NHS inform for the latest informtaion.
Due to the new Omicron variant, NHS Scotland is rolling out the coronavirus booster vaccine programme more quickly as a priority. We will no longer be offering flu vaccines alongside coronavirus vaccine boosters at community clinics. Overall, with the amount of flu infections being lower this season, and with precautions being taken (such as face masks, hand washing and sanitising) and with those in the highest risk of flu having taking up the flu vaccine in high numbers prior to mid-December, we are now focusing more on coronavirus vaccine boosters.
If you are in a high risk group for flu, you can still have flu vaccine this winter season (but not in our coronavirus vaccination clinics). This includes:
pregnant women
those aged 65 years or older
those with underlying health conditions
frontline health and social care workers
adult unpaid carers
adults aged 16 years or over who live with someone with a severely weakened immune system
If you are in one of these high risk groups, you may get a flu vaccine at a NHS community pharmacy or via your midwife if you are pregnant. We will update this page if we are able to restart offering flu vaccines in early 2022 in any of our community clinics
Please don't phone the practice as we don't have any additional information
Coronavirus (COVID-19): Treatments
There are additional treatment options for selected groups of people with coronavirus who are thought to be at greater risk.

These additional coronavirus treatments will be available to the following groups of people this winter:

Groups of people thought to be at high risk and with a clinical condition that's been prioritised for treatment
Those taking part in a national study called PANORAMIC

Direct access to coronavirus treatments for patient groups considered at high risk from coronavirus and with a clinical condition prioritised for treatment

Adults and children (aged 12 or over) who have all 3 of the following are eligible to be assessed for treatment:

A positive PCR test for coronavirus in the last 5 days
Symptoms of coronavirus that started in the last 5 days
Are a member of one of the patient groups considered at high risk from coronavirus with a clinical condition prioritised for treatment (full list below)

Down's syndrome

Sickle cell disease

Patients with a solid cancer

Patients with a haematologic malignancy (cancer of the blood)

Patients with a renal (kidney) disease

Patients with liver disease

Patients with immune-mediated inflammatory disorders (IMID)

Primary immune deficiencies

HIV/AIDS

Solid organ transplant recipients

Rare neurological conditions

Accessing Treatment

If you meet the eligibility criteria call 0300 790 6769 .

These numbers should not be used if you're seeking urgent medical advice or have a general health query.

PANORAMIC National Research Study

Coronavirus oral antiviral treatments will be evaluated through a new UK-wide study called PANORAMIC, run by the University of Oxford.

This is open to people living anywhere in the UK who have all 3 of the following:

A positive PCR test result for coronavirus
Feel unwell with symptoms of coronavirus that started in the last 5 days
Are aged 50 or over or aged 18 to 49 years old with an underlying medical condition (check the PANORAMIC trial website for further details) that can increase the chance of having severe coronavirus symptoms

You can sign up yourself on the study website.
Welcome to St Triduana's Medical Practice
We remain available for both routine and urgent care during the COVID19 pandemic. However, we have had to make some changes to the way we provide services to protect patients and staff:
We have had to close our practice doors once again due to the increase of infection rate. Please call the surgery if you feel you need to be seen/speak to anyone or for any advice.
All our appointments are now by telephone initially, and patients will be seen subsequently at the practice only if required. Please phone our patient advisors on 0131 657 3341 to book a telephone appointment; we have morning or afternoon appointments but cannot give you an exact time. Most things can wait for the next available routine slot, however, if you feel your problem is very urgent please let the advisor know. The advisor will ask for a brief description of your problem to allow them to best deal with it, thank you for providing this. We are not accepting bookings online or at the reception desk, so please call us instead.
Please DO NOT come to the practice unless we have asked you to come. We are only seeing patients face to face if necessary for an examination or nursing procedure.
Please DO NOT come to the Surgery with requests for repeat medication. Requests can be made via online "Patient Access" website or app, submitting a request to a local pharmacy or putting your request in our letterbox outside. Please DO NOT come to the surgery to collect prescriptions either. Please indicate with your request which chemist you use, and we would be happy to send it there for you to collect.
Please wear a Face Covering over your nose and mouth if you have been asked to attend the practice.
Please be aware that COVID symptoms are similar to what you can get for other illnesses. Follow the link below to recognise what are COVID related symptoms.
https://www.gov.scot/publications/coronavirus-covid-19-management-of-urgent-suspicion-of-lung-cancer-referrals/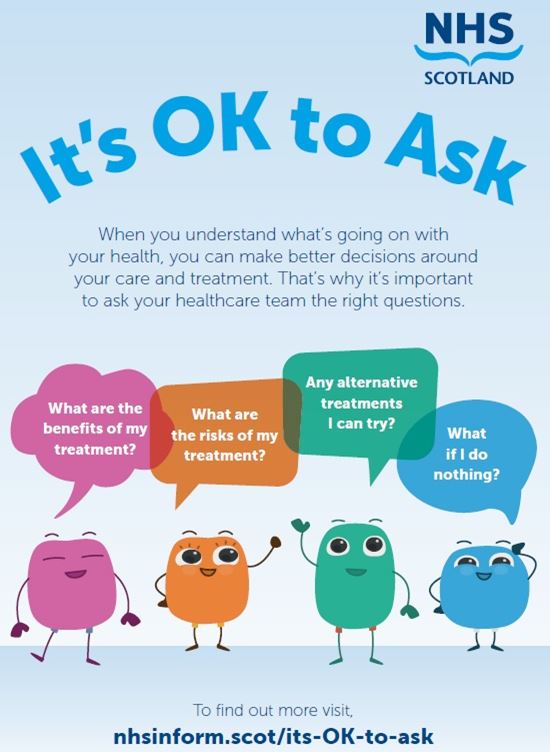 Keep up to date with the latest practice news